EDDIE'S TOUR JOURNAL
Youth Motivational School Assembly Program in Entiat, WA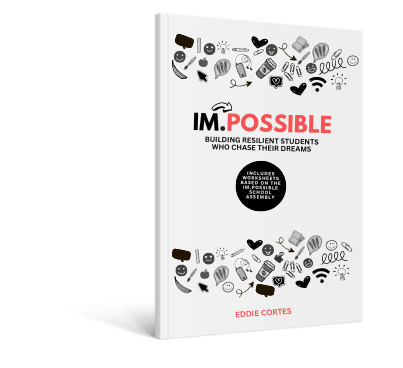 IM.

POSSIBLE

: BUILDING RESILIENT STUDENTS WHO CHASE THIER DREAMS
Are you ready to help your students achieve the impossible? In his book, "Im.possible", a kids book about resilience, Eddie Cortes provides a roadmap for helping students become resilient problem-solvers and dream-chasers.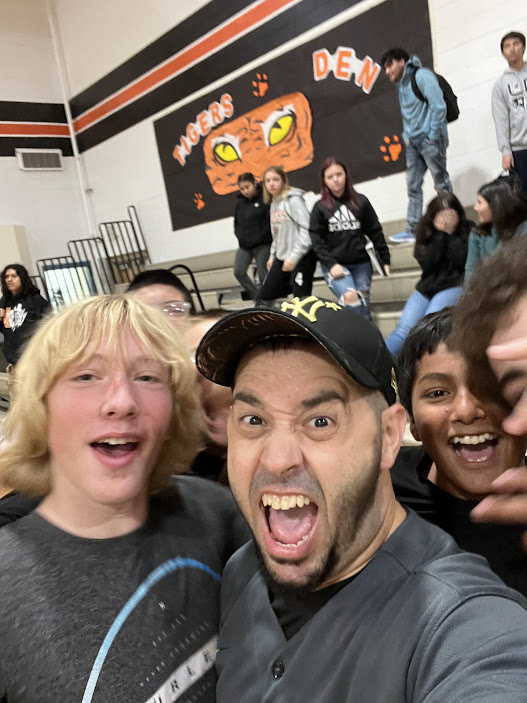 "I was impressed with Eddie's ability to adapt to each grade level to deliver a meaningful message."
Unlocking Dreams and Building Resilience: A Day at Entiat Schools with Motivational Youth Speaker Eddie Cortes
Hey friends! October 16th was an extraordinary day of school assemblies. I was invited to speak at Entiat Schools in Entiat, WA, and it was an unforgettable experience. Join me as I relive the highlights and emphasize a crucial teaching point that resonated across different grade levels.
Adapting to All Ages: From K-2 to 6-12
One of the unique aspects of this speaking engagement was the diverse audience. I had the opportunity to contextualize my message for grades K-2, 3-5, and 6-12. It was the first time I delivered this message to high school students, and I must admit, I was a bit nervous about it. However, the challenge was invigorating, and the experience turned out to be incredibly rewarding.
Teaching Point 1: Never Give Up on Your Dreams
The cornerstone of my message was the importance of never giving up on your dreams. I emphasized that when faced with challenges, it's essential to remember that you can do hard things. The ability to persevere and stay committed to your dreams, even when the going gets tough, is what sets dream-chasers apart.
Teaching Point 2: Unleash Your Potential
I highlighted the idea that our potential is greater than our limitations. What you can become is far greater than anything you can't do. This message was meant to inspire the students to believe in themselves, their abilities, and the endless possibilities that await them.
Teaching Point 3: Focus on What You Can Do
When confronted with something that seems impossible, I encouraged the students to shift their focus from what they can't do to what they can. The power of reimagining the impossible as possible is a transformative mindset that opens doors to achievement.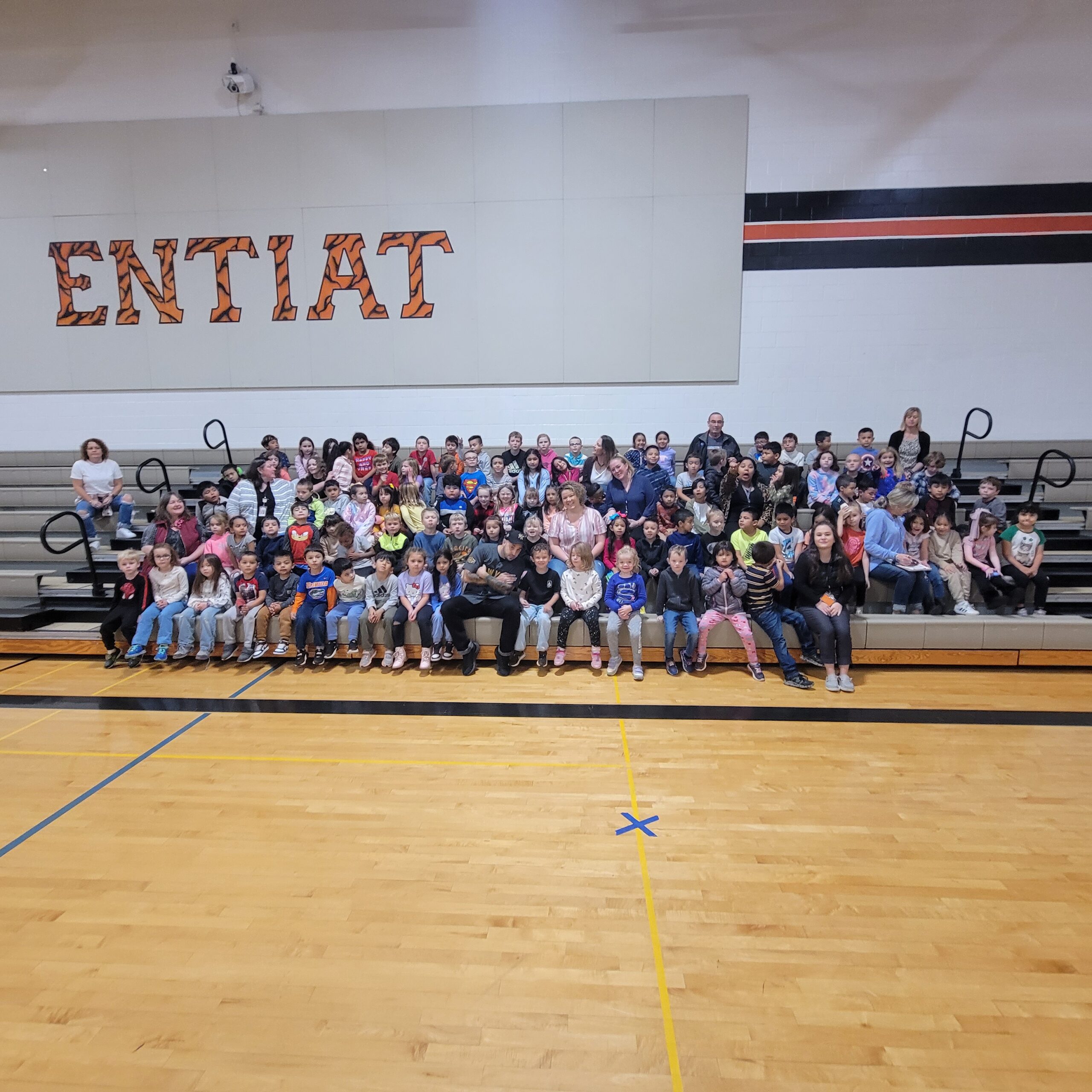 Resounding Success Across All Assemblies
Each assembly, whether for the little ones or high schoolers, was a resounding success. School counselor Susan aptly noted, "I was impressed with Eddie's ability to adapt to each grade level to deliver a meaningful message." It was heartening to see how the core message of resilience and dream-chasing resonated with students of all ages.
High Schoolers' Enthusiastic Response
To my surprise, the high schoolers absolutely loved it. After the assembly, they expressed their gratitude, with many declaring it as the best speech they had ever heard. Some even approached me to sign their shoes, sweaters, and book bags. It was a humbling experience to see that the message and presentation style resonated so strongly with the high school students.
An Inspiring Tale of Inclusion: Wyatt's Touchdown Moment
During my visit, I had the privilege of connecting with the school principal, Tracie, and school counselor, Susan. Our conversations extended beyond the classroom and delved into the topics of resilience, inclusion, and community.
Tracie shared a heartwarming story about her nephew, Wyatt Bureau, who serves as an equipment manager with Down syndrome at Tahoma High School football team. During Tahoma High School's Homecoming Game, the team gave Wyatt a well-deserved spotlight by allowing him to suit up and participate in one staged play against Federal Way. Wyatt's moment of glory included a weaving-through-traffic 40-yard touchdown carry, followed by an impromptu end-zone dance celebration with players from both teams.
This beautiful example of inclusion and the strong relationships within the community left me in awe. Wyatt's story was even featured in High School Sports Illustrated, shedding light on this remarkable moment of unity and inclusivity.
You can read more about Wyatt's incredible moment here: High School Sports Illustrated
Leaving Inspired
Clearly, Entiat Schools are in great hands with such inspirational leadership in Tracie and Susan. Their commitment to creating a supportive and inclusive educational environment is truly commendable, and I left feeling incredibly inspired.
In Conclusion: An Unforgettable Experience
All in all, my time at Entiat Schools was an unforgettable experience. The students were brimming with energy, and the educators showed a deep commitment to their academic and social success. It was evident that this was a place where dreams were nurtured and encouraged.
I want to express my heartfelt thanks to Tracie and Susan for the invitation, warm hospitality, and the inspiring conversations we shared.
The Teaching Point: Determination Unlocks Dreams
As I reflect on this remarkable day, one teaching point stands out: determination is the key to unlocking dreams. The resilience to face challenges, the belief in your potential, and the ability to focus on what you can do are the building blocks of success. As a motivational youth speaker, I'm honored to have the opportunity to share this message with students and help them realize their potential.
Stay tuned for more adventures and inspirations as I continue to connect with amazing students. Until next time, friends!

IM.POSSIBLE Middle School Assembly Program
IM.POSSIBLE is a fun and interactive school assembly helping elementary and middle school students build resilience, a positive self-worth, and chase their I'm possible dreams.
2023-2024 TOUR DATES
Aug. 8 – Gayle Middle, Stafford, VA
Aug. 8 – Thompson Middle, Stafford, VA
Aug. 8 – Poole Middle, Stafford, VA
Aug. 21 – Boaz Middle School, Boaz, AL
Sept. 1 – Wilson Ele School, Plant City, FL
Sept. 7 – Fabens Middle School, Fabens, TX
Sept. 7 – O'donnell Intermediate, Fabens, TX
Sept. 11 – Bailey Elementary, Dover, FL
Sept. 26 – Atrisco Elementary School, Albuquerque, NM
Sept. 26 – Colinas del Norte Elementary, Rio Rancho, NM
Sept. 27 – Alamosa Elementary School, Albuquerque, NM
Oct. 16 – Entiat Schools, Entiat, East Wenatchee, WA
Oct. 17 – Cascade Elementary, East Wenatchee, WA
Oct. 17 – Sterling Jr. High, East Wenatchee, WA
Oct. 18 – Rock Island Elementary, Rock Island, WA
Oct. 18 – Grant Elementary, East Wenatchee, WA
Oct. 19 – Clovis Point Elementary, East Wenatchee, WA
Oct. 19 – Eastmont Jr. High, East Wenatchee, WA
Oct. 20 – Kenroy Elementary, East Wenatchee, WA
Nov. 6 – New Castle Elementary & Charter School, Newcastle, CA
Nov. 6 – Foothill Ranch Middle School, Sacramental, CA
Nov. 7 – Foothill Ranch Middle School, Sacramental, CA
Nov. 7 – Manzanita Elementary School, Gridley, CA
Nov. 17 – Central Middle School, Stirling, NJ
Dec. 1 – Fred Wild Elementary, Sebring, FL
Dec. 18 – Indian Hill School, Holmdel, NJ
March 1 – Kane County ROE,Geneva, IL
Invite Eddie Cortes to be a guest speaker at your elementary or middle school. Click here or email [email protected] to schedule a conversation to learn more about his school assembly.
ABOUT ELEMENTARY AND MIDDLE SCHOOL ASSEMBLY PROGRAM
In his fun and interactive presentation titled "IM.POSSIBLE," youth motivational speaker Eddie Cortes will help students realize that they are not defined by their limitations but by their potential. He uses humor, thought-provoking stories, and object lessons to teach elementary and middle school students to build resilience. Eddie empowers them to do hard things and chase their dreams.
Email [email protected] or click here to schedule a conversation to learn more or invite Eddie Cortes to be the guest youth motivational speaker at your next school assembly program.
ABOUT SCHOOL ASSEMBLY SPEAKER EDDIE CORTES
With over 20 years of experience, Eddie Cortes is regarded as one of the most engaging elementary and middle school speakers in the youth market. His mission is to empower students to build resilience and a positive self-worth.
This mission is personal. As a middle schooler, Eddie stopped believing in himself. In fact, his negative self-view impacted his grades, relationships, choices, and ultimately his dreams.
This experience is what fuels Eddie's mission. He wants every elementary and middle school student to know that they are worthy of their dreams and have the tools to chase them.
To learn more about Youth Speaker Eddie Cortes click here.
Follow Eddie Cortes on social: Instagram | Facebook | Linked In