EDDIE'S TOUR JOURNAL
Elementary School Motivational Youth Speaker in Albuquerque, NM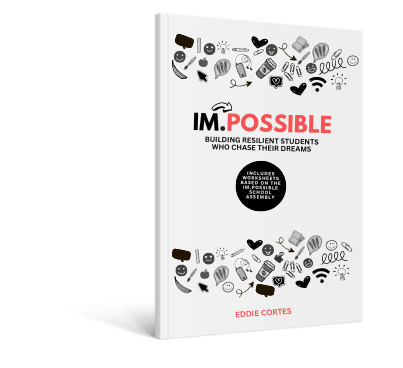 IM.

POSSIBLE

: BUILDING RESILIENT STUDENTS WHO CHASE THIER DREAMS
Are you ready to help your students achieve the impossible? In his book, "Im.possible", a kids book about resilience, Eddie Cortes provides a roadmap for helping students become resilient problem-solvers and dream-chasers.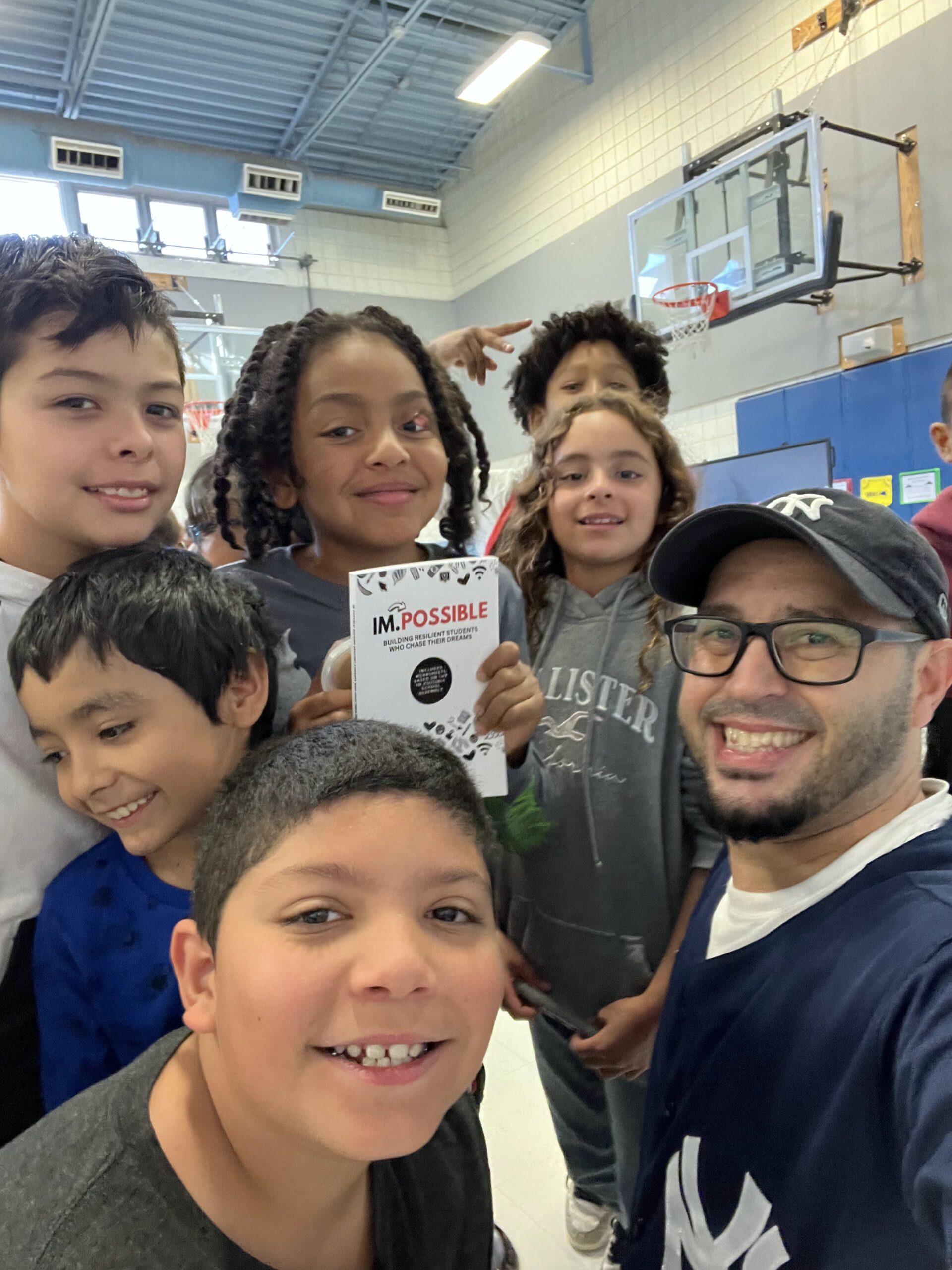 "That was awesome! Can we work on making this a yearly thing?"
Resilience and Dreams: A Day at Alamosa Elementary School with Motivational Youth Speaker Eddie Cortes
Hey there, friends! September 27th marked a remarkable day in my journey as a motivational youth speaker. I had the privilege of speaking at Alamosa Elementary School in Albuquerque, NM, where the focus was on building resilience and self-worth to chase our dreams, especially the ones that may seem impossible. Let me take you through the inspiring moments and the key teaching point I emphasized.
Resilience and Self-Worth: The Dream-Chasing Duo
Resilience and self-worth are like two pillars that support our dreams. I stressed the importance of developing these qualities to pursue our most ambitious dreams, even when they appear impossible at first glance.
Jim Abbott: A Story of Triumph
To illustrate the power of resilience, I shared the remarkable story of Jim Abbott, a professional baseball player who was born with only one hand. Despite this significant challenge, he overcame everyday obstacles to fulfill his dream of playing in the major leagues. Jim's story is a testament to determination, a relentless drive to embrace challenges, and the grit to overcome them.
The Shoelace Challenge: Embracing the Impossible
We engaged in an interactive exercise that drove home the point about the power of determination. In the shoelace challenge, students and even teachers had 90 seconds to tie their shoelaces using only one hand. It was incredible to witness the students' enthusiasm as they tackled this seemingly impossible task. At 75 seconds, one student and a teacher triumphed, and the cheers and applause that followed were absolutely electrifying. This activity served as a powerful reminder that we can achieve even the most challenging tasks if we approach them with determination and unwavering focus.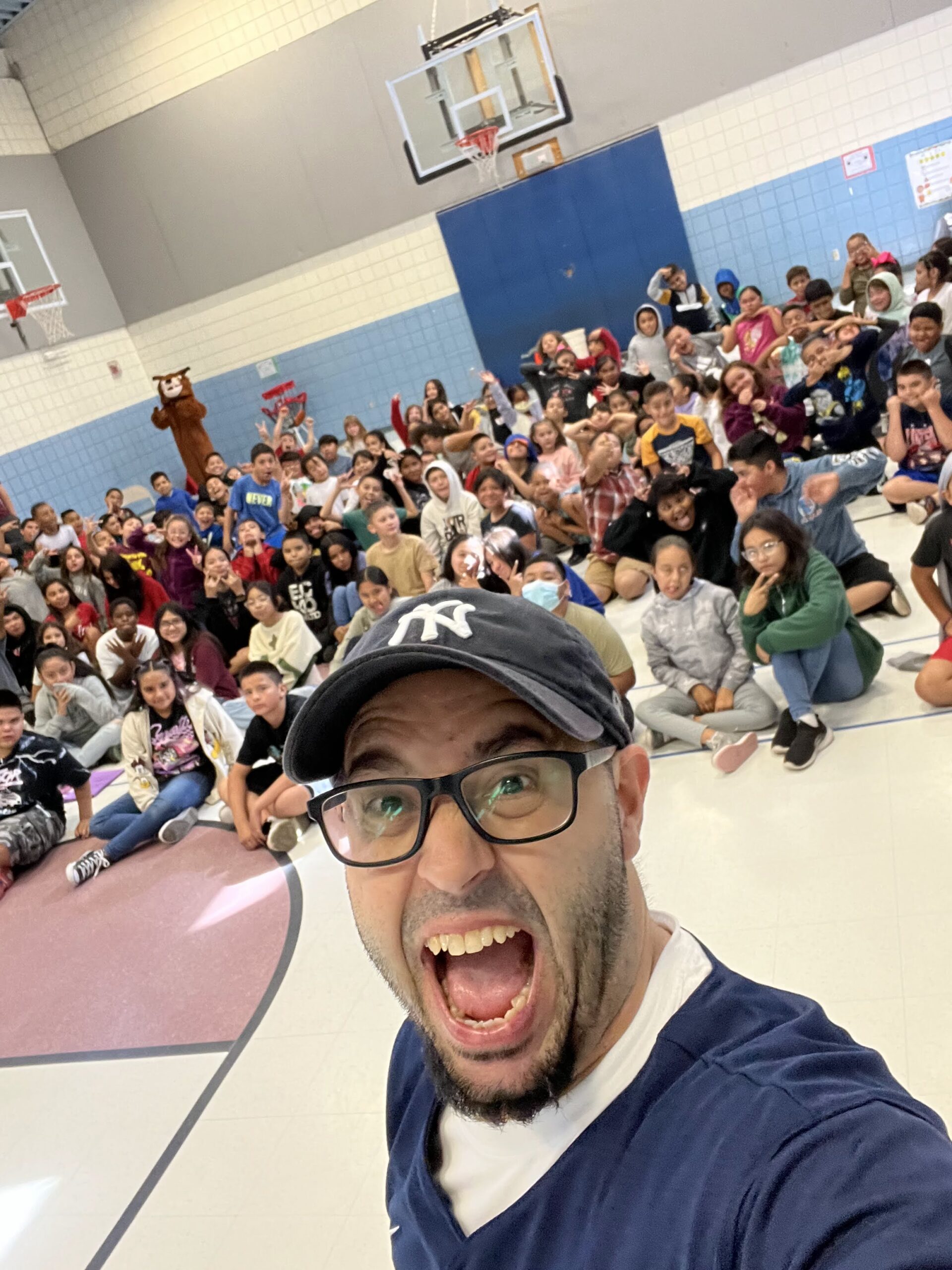 An Incredible Time at Alamosa Elementary School
The day at Alamosa Elementary School was nothing short of incredible. After the assembly, I had the pleasure of chatting with some students, taking photos with them and the school mascot, and celebrating their resilient spirit. The students were brimming with energy, and the educators showed a deep commitment to their academic and social success. It was evident that this was a place where dreams were nurtured and encouraged.
Thanking Principal Alvaro and Debbie
I want to extend my heartfelt thanks to Principal Alvaro and Debbie for extending the invitation and their warm hospitality. Their leadership is making a significant impact on the lives of the students at Alamosa Elementary School.
A Promise for the Future
I was delighted to learn that I've already been invited to return next year, and I can't wait to do it all over again. The opportunity to inspire and be inspired by these remarkable students is something I eagerly anticipate.
In Conclusion: The Power of Determination
As I reflect on the day at Alamosa Elementary School, one teaching point stands out: determination is the key to conquering the seemingly impossible. Resilience and self-worth form the foundation, but it's the unwavering drive to embrace challenges and overcome them that propels us toward our dreams. This day was a beautiful reminder of the incredible impact a motivational youth speaker can have on students and teachers.
Stay tuned for more adventures and inspirations as I continue to connect with amazing students. Until next time, friends!

IM.POSSIBLE Middle School Assembly Program
IM.POSSIBLE is a fun and interactive school assembly helping elementary and middle school students build resilience, a positive self-worth, and chase their I'm possible dreams.
2023-2024 TOUR DATES
Aug. 8 – Gayle Middle, Stafford, VA
Aug. 8 – Thompson Middle, Stafford, VA
Aug. 8 – Poole Middle, Stafford, VA
Aug. 21 – Boaz Middle School, Boaz, AL
Sept. 1 – Wilson Ele School, Plant City, FL
Sept. 7 – Fabens Middle School, Fabens, TX
Sept. 7 – O'donnell Intermediate, Fabens, TX
Sept. 11 – Bailey Elementary, Dover, FL
Sept. 26 – Atrisco Elementary School, Albuquerque, NM
Sept. 26 – Colinas del Norte Elementary, Rio Rancho, NM
Sept. 27 – Alamosa Elementary School, Albuquerque, NM
Oct. 16 – Entiat Schools, Entiat, East Wenatchee, WA
Oct. 17 – Cascade Elementary, East Wenatchee, WA
Oct. 17 – Sterling Jr. High, East Wenatchee, WA
Oct. 18 – Rock Island Elementary, Rock Island, WA
Oct. 18 – Grant Elementary, East Wenatchee, WA
Oct. 19 – Clovis Point Elementary, East Wenatchee, WA
Oct. 19 – Eastmont Jr. High, East Wenatchee, WA
Oct. 20 – Kenroy Elementary, East Wenatchee, WA
Nov. 6 – New Castle Elementary & Charter School, Newcastle, CA
Nov. 6 – Foothill Ranch Middle School, Sacramental, CA
Nov. 7 – Foothill Ranch Middle School, Sacramental, CA
Nov. 7 – Manzanita Elementary School, Gridley, CA
Nov. 17 – Central Middle School, Stirling, NJ
Dec. 1 – Fred Wild Elementary, Sebring, FL
Dec. 18 – Indian Hill School, Holmdel, NJ
March 1 – Kane County ROE,Geneva, IL
Invite Eddie Cortes to be a guest speaker at your elementary or middle school. Click here or email [email protected] to schedule a conversation to learn more about his school assembly.
ABOUT ELEMENTARY AND MIDDLE SCHOOL ASSEMBLY PROGRAM
In his fun and interactive presentation titled "IM.POSSIBLE," youth motivational speaker Eddie Cortes will help students realize that they are not defined by their limitations but by their potential. He uses humor, thought-provoking stories, and object lessons to teach elementary and middle school students to build resilience. Eddie empowers them to do hard things and chase their dreams.
Email [email protected] or click here to schedule a conversation to learn more or invite Eddie Cortes to be the guest youth motivational speaker at your next school assembly program.
ABOUT SCHOOL ASSEMBLY SPEAKER EDDIE CORTES
With over 20 years of experience, Eddie Cortes is regarded as one of the most engaging elementary and middle school speakers in the youth market. His mission is to empower students to build resilience and a positive self-worth.
This mission is personal. As a middle schooler, Eddie stopped believing in himself. In fact, his negative self-view impacted his grades, relationships, choices, and ultimately his dreams.
This experience is what fuels Eddie's mission. He wants every elementary and middle school student to know that they are worthy of their dreams and have the tools to chase them.
To learn more about Youth Speaker Eddie Cortes click here.
Follow Eddie Cortes on social: Instagram | Facebook | Linked In