EDDIE'S TOUR JOURNAL
Elementary School Motivational Youth Speaker in Fabens, TX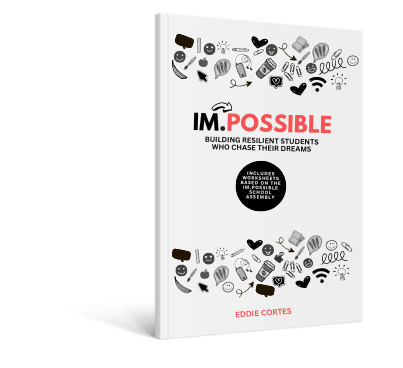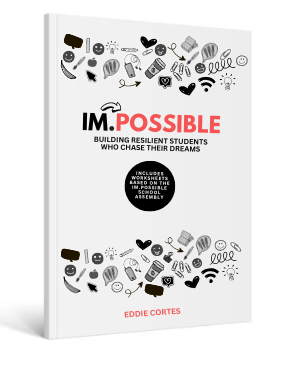 IM.

POSSIBLE

: BUILDING RESILIENT STUDENTS WHO CHASE THIER DREAMS
Are you ready to help your students achieve the impossible? In his book, "Im.possible", a kids book about resilience, Eddie Cortes provides a roadmap for helping students become resilient problem-solvers and dream-chasers.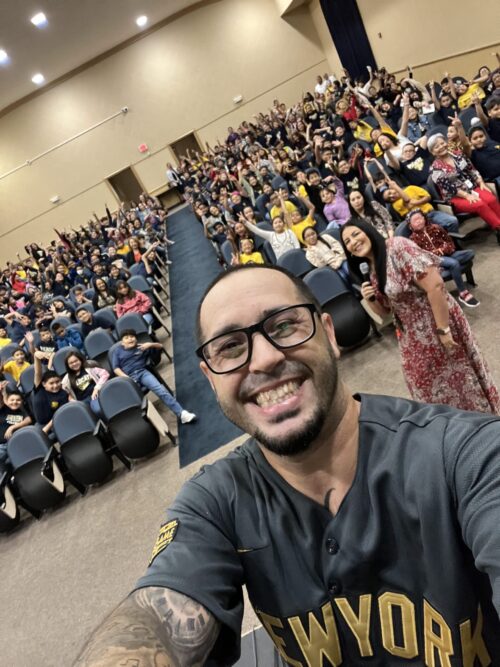 Eddie Cortes is a dynamic speaker and is able to connect to the students. He's very down to earth, and in sharing his upbringing, students are able to relate to him. The students were engaged the whole hour! We would welcome him back anytime.
Unlocking Potential: Motivational Youth Speaker Eddie Cortes Inspiring Resilience at O'Donnell Intermediate School
It's time to pen another unforgettable experience from my IM.POSSIBLE School Assembly Tour. Last week, on September 7th, I also had the privilege of speaking at O'Donnell Intermediate School in Texas. It was a day filled with inspiration, laughter, and a profound message on resilience that left a lasting impact on both the elementary students and me.
Resilience: A Lesson for Life
The theme of the day was all about resilience. I firmly believe that instilling resilience in young minds is one of the most important gifts we can offer them. It's like giving them the key to unlock their full potential and chase their dreams fearlessly.
Lesson: Your Potential > Your Limitations
One crucial teaching point I emphasized throughout the day was the idea that our potential is far greater than our limitations. I wanted these bright young students to understand that what they can become is far greater than anything they can't do. To drive this point home, I shared a powerful illustration.
Kodi Lee: A Remarkable Example
I showed the elementary students a clip from Kodi Lee's audition at America's Got Talent. The room was filled with gasps of amazement and jaws dropping as Kodi, a talented musician who is blind and autistic, began to play the piano and sing. It was a moment of pure magic. I overheard one student muttering, "No way!"
From Limitations to Potential
After the video, I had their full attention. I told them that at first glance, it might seem like Kodi has limitations, all the things he can't do. But when he started playing the piano and singing, we witnessed his potential, his incredible talent, and what he could become. I reminded the students that if Kodi Lee could realize his potential, imagine what they could do when they embrace their unique abilities and believe in themselves.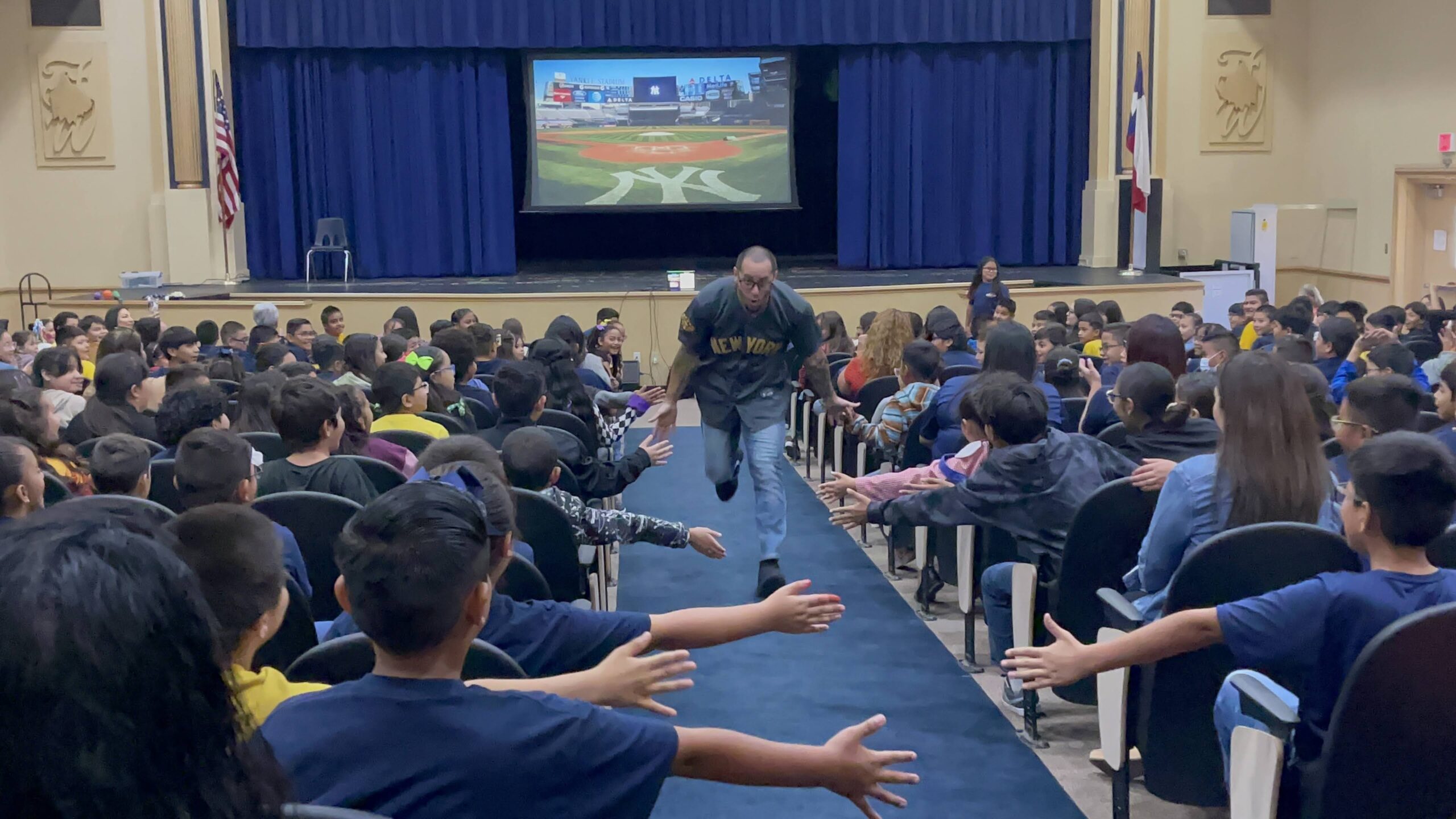 A Thunderous Cheer: Mission Accomplished
As I wrapped up the presentation, the students gave me a huge cheer. It was a moment of pure joy and validation. I couldn't help but smile, knowing that the message of resilience and the belief in one's potential had resonated with them. It was a small victory, but it meant the world to me.
Fun, Electric, and Grateful
Speaking at O'Donnell Intermediate School was nothing short of amazing. The students were a joy. Their energy was infectious, and it was evident that they were ready to embrace the teachings on resilience.
A Heartfelt Thank You
Before I sign off, I want to express my heartfelt gratitude to Principal Corina Ruiz for extending the invitation and for the incredible hospitality shown by the school's staff. It's educators and leaders like Principal Ruiz who play a pivotal role in nurturing the next generation of resilient, confident individuals.
The Impact of a Motivational Youth Speaker
As I close this journal entry, I'm filled with gratitude for the opportunity to be a motivational youth speaker and make a positive impact on these young minds. The lesson of resilience, the belief in one's potential, and the example of Kodi Lee are all reminders that with the right mindset, there are no limits to what these students can achieve.
I look forward to more moments like these on my school assembly tour, where I get to witness the spark of determination and self-belief light up the eyes of young dream chasers. Until next time, friends!

IM.POSSIBLE Middle School Assembly Program
IM.POSSIBLE is a fun and interactive school assembly helping elementary and middle school students build resilience, a positive self-worth, and chase their I'm possible dreams.
2023-2024 TOUR DATES
Aug. 8 – Gayle Middle, Stafford, VA
Aug. 8 – Thompson Middle, Stafford, VA
Aug. 8 – Poole Middle, Stafford, VA
Aug. 21 – Boaz Middle School, Boaz, AL
Sept. 1 – Wilson Ele School, Plant City, FL
Sept. 7 – Fabens Middle School, Fabens, TX
Sept. 7 – O'donnell Intermediate, Fabens, TX
Sept. 11 – Bailey Elementary, Dover, FL
Sept. 26 -Atrisco Elementary School, Albuquerque, NM
Sept. 26 – Colinas del Norte Elementary, Rio Rancho, NM
Sept. 27 – Alamosa Elementary School, Albuquerque, NM
Oct. 16 – Entiat Schools, Entiat, East Wenatchee, WA
Oct. 17 – Cascade Elementary, East Wenatchee, WA
Oct. 17 – Sterling Jr. High, East Wenatchee, WA
Oct. 18 – Rock Island Elementary, East Wenatchee, WA
Oct. 18 – Grant Elementary, East Wenatchee, WA
Oct. 19 – Clovis Point Elementary, East Wenatchee, WA
Oct. 19 – Eastmont Jr. High, East Wenatchee, WA
Oct. 20 – Kenroy elementary, East Wenatchee, WA
Nov. 17 – Central Middle School, Stirling, NJ
Dec. 1 – Fred Wild Elementary, Sebring, FL
Invite Eddie Cortes to be a guest speaker at your elementary or middle school. Click here or email [email protected] to schedule a conversation to learn more about his school assembly.
ABOUT ELEMENTARY AND MIDDLE SCHOOL ASSEMBLY PROGRAM
In his fun and interactive presentation titled "IM.POSSIBLE," youth motivational speaker Eddie Cortes will help students realize that they are not defined by their limitations but by their potential. He uses humor, thought-provoking stories, and object lessons to teach elementary and middle school students to build resilience. Eddie empowers them to do hard things and chase their dreams.
Email [email protected] or click here to schedule a conversation to learn more or invite Eddie Cortes to be the guest youth motivational speaker at your next school assembly program.
ABOUT SCHOOL ASSEMBLY SPEAKER EDDIE CORTES
With over 20 years of experience, Eddie Cortes is regarded as one of the most engaging elementary and middle school speakers in the youth market. His mission is to empower students to build resilience and a positive self-worth.
This mission is personal. As a middle schooler, Eddie stopped believing in himself. In fact, his negative self-view impacted his grades, relationships, choices, and ultimately his dreams.
This experience is what fuels Eddie's mission. He wants every elementary and middle school student to know that they are worthy of their dreams and have the tools to chase them.
To learn more about Youth Speaker Eddie Cortes click here.
Follow Eddie Cortes on social: Instagram | Facebook | Linked In