I'M POSSIBLE SCHOOL ASSEMBLY WITH YOUTH MOTIVATIONAL SPEAKER EDDIE CORTES
Let's help your students build resilience, develop positive self-worth, and transform obstacles into opportunities.
Eddie Cortes believes that a student's self-worth directly impacts their academic achievement, as well as their social, emotional, and mental health. In fact, young people with a positive self-worth are more resilient, and more likely to overcome disappointment, failure, and obstacles. Additionally, they have richer relationships and achieve better academic results.
In his fun, high energy, and interactive presentation called "I'M POSSIBLE," Eddie will help students realize that they are not defined by their limitations. Eddie uses humor, thought-provoking stories, and spoken word to show elementary and middle school students that they are braver than they believe, stronger than they seem, and smarter than they think.
Eddie will empower students to build resilience, develop positive self-worth, and transform obstacles into opportunities.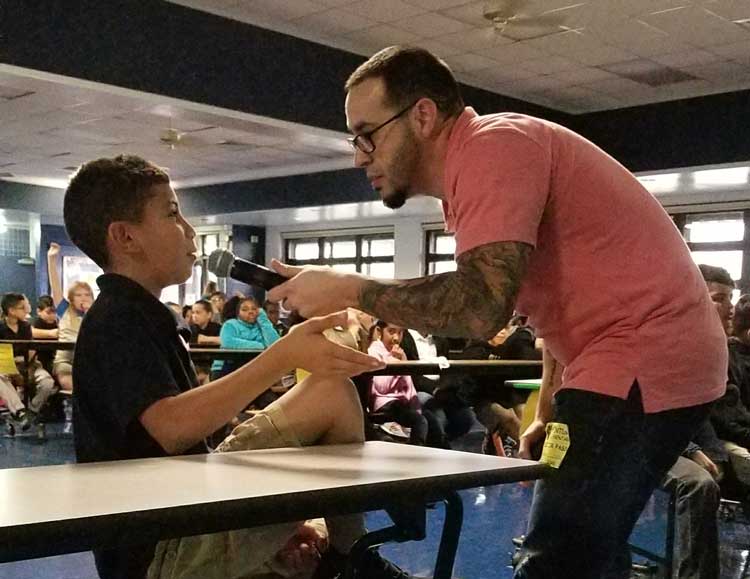 "Eddie is a gifted and enthusiastic communicator with superb presentation skills."
Eddie will help students to…
✔️ Nurture a positive self-view that will boost their self-esteem
✔️ Focus on what they can do, rather than what they can not
✔️ Adopt a growth mindset and discover the opportunities in their obstacles
Here's what a student recently had to say about our presentation:
"Passionate, relatable, powerful. Great speaker and a great message."
– Jordan N., Student
If you are interested to learn more about the I'm Possible School Assembly click here or email booking@eddiecortes.com to schedule a call.
ABOUT EDDIE CORTES
Eddie Cortes has been working with teenagers in one capacity or another for over 20 years. His message is empowering, yet his greatest value is his ability to engage students. Eddie understands their culture, speaks their language, and is able to connect his message with their reality. This makes Eddie the perfect school speaker for your next school assembly.
To learn more about Youth Motivational Speaker Eddie Cortes click here.