EDDIE'S TOUR JOURNAL
Elementary School Motivational Youth Speaker in Plant City, FL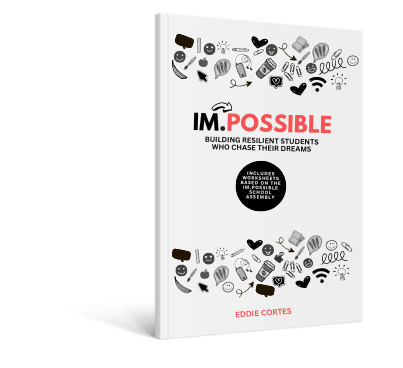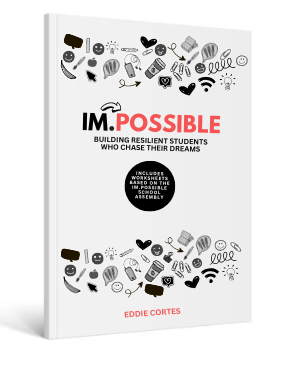 IM.

POSSIBLE

: BUILDING RESILIENT STUDENTS WHO CHASE THIER DREAMS
Are you ready to help your students achieve the impossible? In his book, "Im.possible", a kids book about resilience, Eddie Cortes provides a roadmap for helping students become resilient problem-solvers and dream-chasers.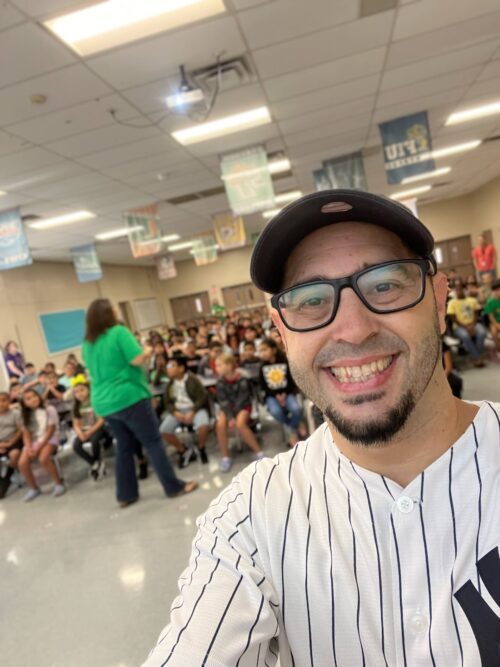 Eddie was easy to work with, responsive to our students, and left them with a meaningful message. One of my teachers said it was the best student assembly she had ever been to.
Inspiring Resilience as a Motivational Youth Speaker at Wilson Elementary School in Plant City, FL
Last week, I had the privilege of being the motivational youth speaker at Wilson Elementary School. It was an incredible experience empowering approximately 300 enthusiastic elementary school students and sharing valuable insights about resilience in the pursuit of their dreams. During my presentation, there was a memorable moment that truly highlighted the impact of resilience on these young minds.
A Memorable Moment of Understanding
As I began sharing a personal story about giving up on my dream of becoming a Major League Baseball player for the New York Yankees, a student couldn't contain their excitement and shouted, "Noooooo, you never have to give up!" It was a heartwarming moment because it demonstrated that the students had wholeheartedly grasped the message from the first part of my presentation.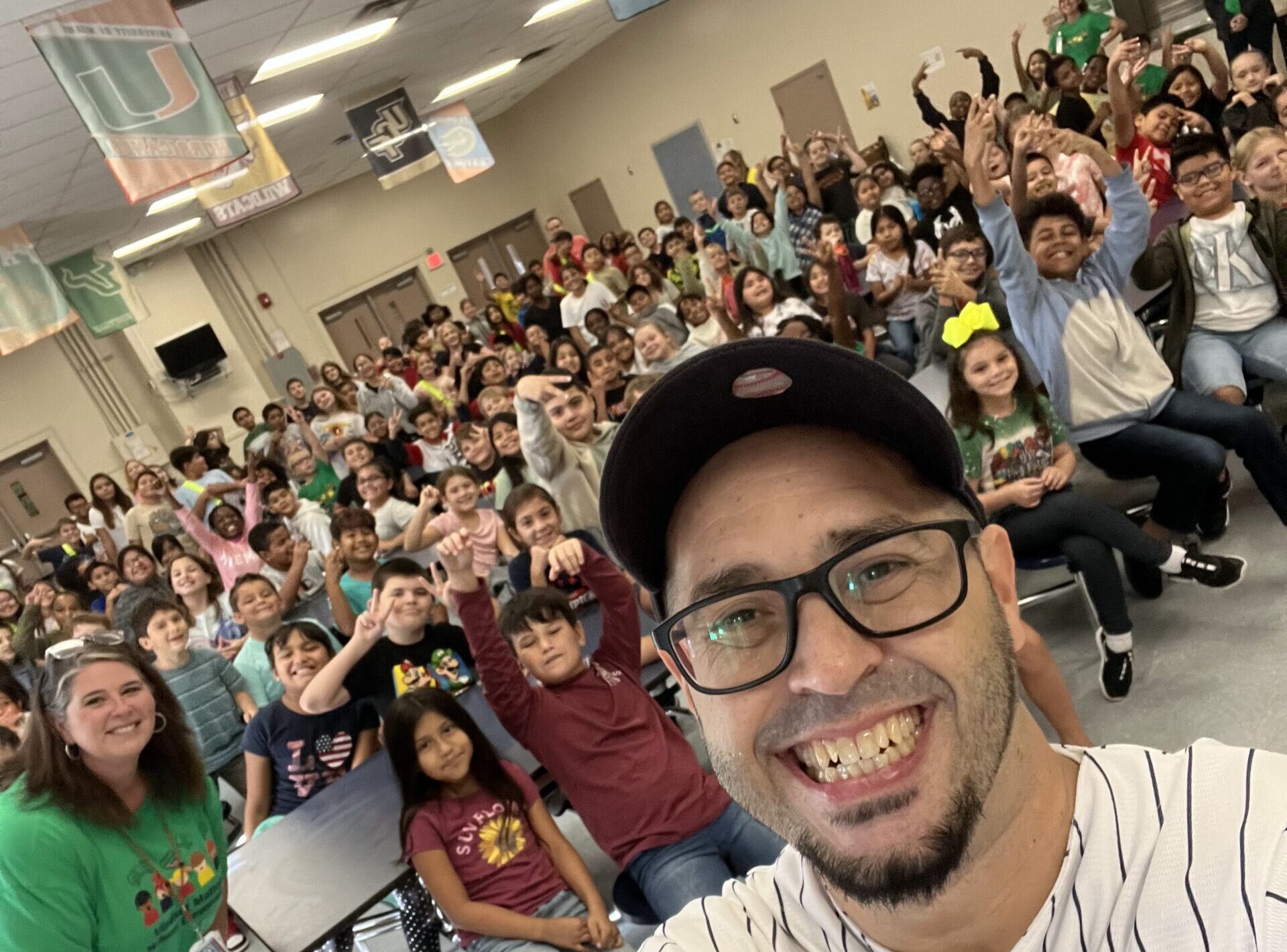 The Resilient Dream-Chaser's Journey
Here's what I shared with the students in the first part of the IM.POSSIBLE presentation:
Embracing Failure: I emphasized that on the path to chasing our dreams, failure is a natural part of the journey. It's important to understand that failing at something doesn't mean the dream is over; it's merely a stepping stone to success.
Resilience in Action: Resilient dream chasers, I explained, are those who pick themselves up after a setback, learn from their failures, and continue pursuing their dreams with unwavering determination. Failure, I reminded them, is a teacher that imparts valuable lessons to help us get closer to our goals and dreams.
The "I Can. I Will." Mindset: I urged them to adopt an "I can. I will." mindset. I emphasized that when faced with challenges, they should remind themselves that they can overcome difficult situations because they possess the strength and resilience to do so.
Sweet, Smart, and Electric Students
The students at Wilson Elementary were an absolute delight—sweet, smart, and overflowing with energy. It was an absolute pleasure to share with them and see their enthusiasm for learning about resilience and dream chasing.
Acknowledgment and Thanks
I extend my heartfelt gratitude to the school's staff, teachers, and School Principal Kayla Forcucci for the invitation and their dedication to nurturing these young minds. It's clear that under Principal Forcucci's leadership, Wilson Elementary is doing an outstanding job of guiding students towards a future filled with determination and resilience.
Nurturing Resilient Dream Chasers
In conclusion, my time as a motivational youth speaker at Wilson Elementary School was not only fulfilling but also a testament to the capacity of young minds to grasp and internalize important life lessons. The focus on resilience in the pursuit of dreams is crucial, and I am confident that these students are well on their way to becoming resilient dream chasers. Thank you once again to Wilson Elementary School for this invaluable opportunity to inspire and empower.

IM.POSSIBLE Middle School Assembly Program
IM.POSSIBLE is a fun and interactive school assembly helping elementary and middle school students build resilience, a positive self-worth, and chase their I'm possible dreams.
2023-2024 TOUR DATES
Aug. 8 – Gayle Middle, Stafford, VA
Aug. 8 – Thompson Middle, Stafford, VA
Aug. 8 – Poole Middle, Stafford, VA
Aug. 21 – Boaz Middle School, Boaz, AL
Sept. 1 – Wilson Ele School, Plant City, FL
Sept. 7 – Fabens Middle School, Fabens, TX
Sept. 7 – O'donnell Intermediate, Fabens, TX
Sept. 11 – Bailey Elementary, Dover, FL
Sept. 26 -Atrisco Elementary School, Albuquerque, NM
Oct. 16 – Entiat Schools, Entiat, East Wenatchee, WA
Oct. 17 – Cascade Elementary, East Wenatchee, WA
Oct. 17 – Sterling Jr. High, East Wenatchee, WA
Oct. 18 – Rock Island Elementary, East Wenatchee, WA
Oct. 18 – Grant Elementary, East Wenatchee, WA
Oct. 19 – Clovis Point Elementary, East Wenatchee, WA
Oct. 19 – Eastmont Jr. High, East Wenatchee, WA
Oct. 20 – Kenroy elementary, East Wenatchee, WA
Nov. 17 – Central Middle School, Stirling, NJ
Dec. 1 – Fred Wild Elementary, Sebring, FL
Invite Eddie Cortes to be a guest speaker at your elementary or middle school. Click here or email [email protected] to schedule a conversation to learn more about his school assembly.
ABOUT ELEMENTARY AND MIDDLE SCHOOL ASSEMBLY PROGRAM
In his fun and interactive presentation titled "IM.POSSIBLE," youth motivational speaker Eddie Cortes will help students realize that they are not defined by their limitations but by their potential. He uses humor, thought-provoking stories, and object lessons to teach elementary and middle school students to build resilience. Eddie empowers them to do hard things and chase their dreams.
Email [email protected] or click here to schedule a conversation to learn more or invite Eddie Cortes to be the guest youth motivational speaker at your next school assembly program.
ABOUT SCHOOL ASSEMBLY SPEAKER EDDIE CORTES
With over 20 years of experience, Eddie Cortes is regarded as one of the most engaging elementary and middle school speakers in the youth market. His mission is to empower students to build resilience and a positive self-worth.
This mission is personal. As a middle schooler, Eddie stopped believing in himself. In fact, his negative self-view impacted his grades, relationships, choices, and ultimately his dreams.
This experience is what fuels Eddie's mission. He wants every elementary and middle school student to know that they are worthy of their dreams and have the tools to chase them.
To learn more about Youth Speaker Eddie Cortes click here.
Follow Eddie Cortes on social: Instagram | Facebook | Linked In