EDDIE'S TOUR JOURNAL
Middle School Motivational Youth Speaker in Fabens, TX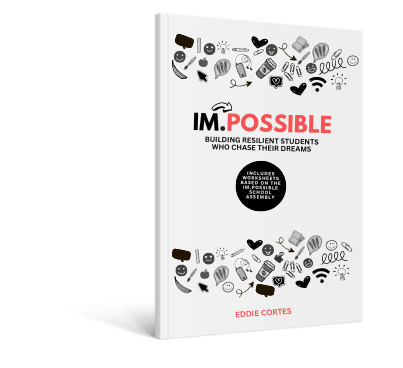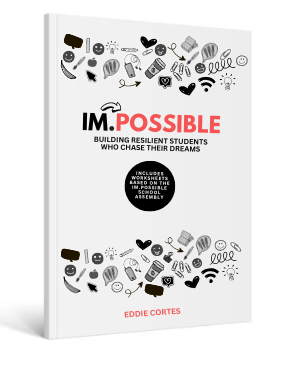 IM.

POSSIBLE

: BUILDING RESILIENT STUDENTS WHO CHASE THIER DREAMS
Are you ready to help your students achieve the impossible? In his book, "Im.possible", a kids book about resilience, Eddie Cortes provides a roadmap for helping students become resilient problem-solvers and dream-chasers.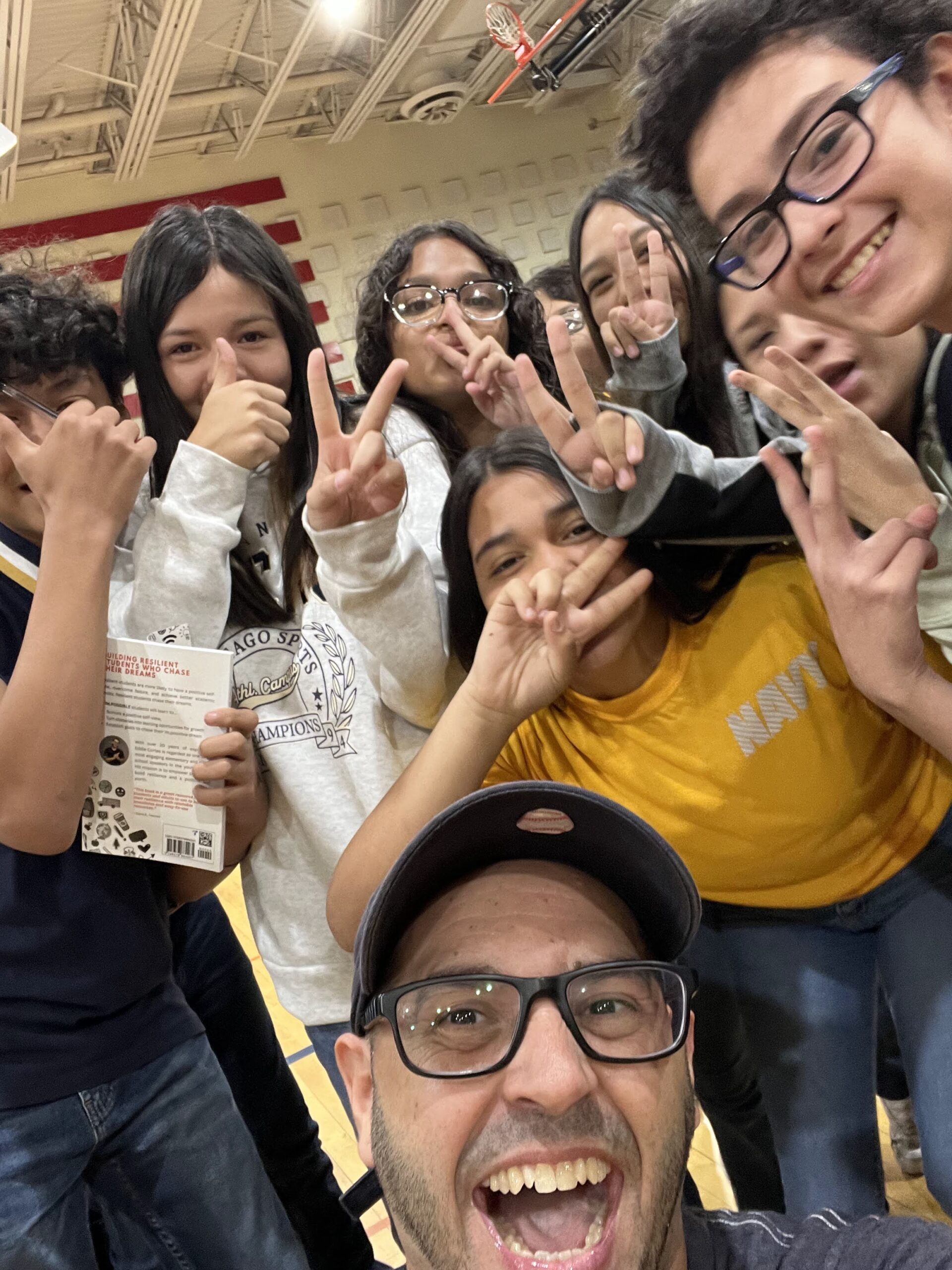 Eddie was easy to work with, responsive to our students, and left them with a meaningful message. One of my teachers said it was the best student assembly she had ever been to.
Empowering Resilience Motivational Youth Speaker Eddie Cortes at Fabens Middle School
On September 7th, I had the privilege of being the motivational youth speaker at Fabens Middle School in Fabens, Texas. The energy, enthusiasm, and lessons from that day are still buzzing in my mind, so I thought I'd capture the essence of it right here.
Resilience and Self-Worth: Lessons for Life
The theme of presentation is all about resilience. It's amazing how this simple word can hold such profound meaning, especially for young minds on the cusp of discovering their potential. My goal was to empower these middle school students with the mindset and tools they need to chase their dreams relentlessly.
Lesson: Embrace Failure as a Teacher
One key teaching point that I emphasized throughout the day was the idea that failure is not the end; it's a valuable teacher on our journey to success. We discussed how every time we stumble or face setbacks, we learn something crucial that brings us closer to our goals and dreams. It's like a puzzle where each failure piece is a part of the bigger picture of our success.
The "I Can, I Will" Mindset
The heart of my message was to inspire these students to adopt an "I can, I will" mindset. I wanted them to believe in themselves and their ability to overcome challenges, no matter how daunting they may seem. The idea was to instill in them the unwavering determination to tackle obstacles head-on.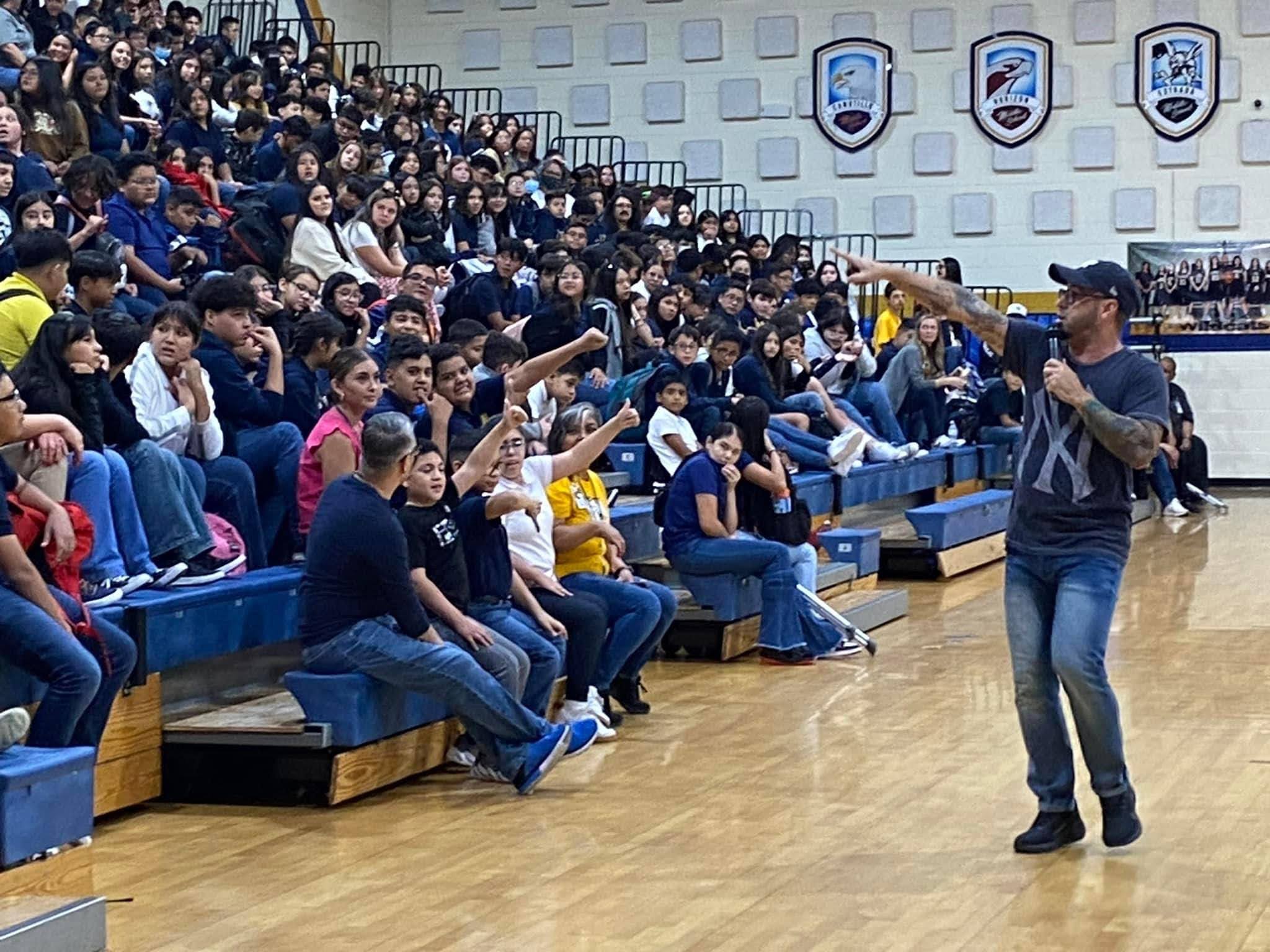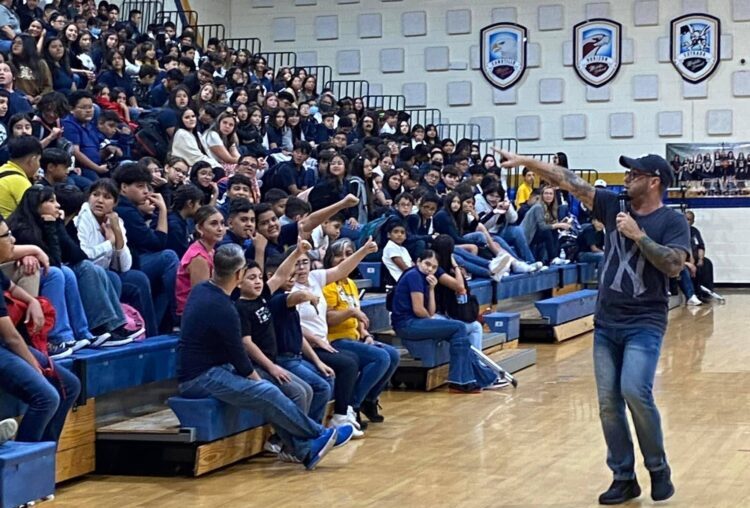 Shoelace Challenge: A Triumph of Determination
Now, here's a remarkable moment that vividly captures the spirit of the day. During one of the sessions, a group of students took on the shoelace challenge—a task that required skill, speed, and focus. The challenge was to lace up a pair of shoes in just 90 seconds with one hand. It might sound simple (it's not), but it's a testament to the power of determination. One student completed the challenge in 60 seconds, well under the time limit. It was met with cheers and applause from their fellow students and teachers.
The Fabens Middle School Experience
Speaking at Fabens Middle School was an absolute blast. The students were an incredible bunch—fun, electric, and fully engaged in the school assembly program. Their energy was infectious, and it was evident that they were ready to embrace the message on resilience.
I must express my sincere gratitude to Principal Monica Lyons for extending the invitation. It's leaders like her who make a significant difference in shaping the futures of young minds. The warmth and hospitality shown by the school's staff and teachers were remarkable, creating an environment that was conducive to learning and growth.
The Impact of a Motivational Youth Speaker
As I reflect on that memorable day at Fabens Middle School, I'm reminded of the profound impact a motivational youth speaker can have on young hearts and minds. The lessons of resilience, the "I can, I will" mindset, and the triumphant shoelace challenge all serve as reminders that when we empower middle school students with the right mindset and tools, there's no limit to what they can achieve.
So here's to more days like September 7th, where I get to witness the spark of determination ignite in the eyes of young dreamers. It's a privilege to be a part of their journey, and I can't wait to see how they'll use these lessons to chase their dreams with unwavering belief and resilience. Until next time!

IM.POSSIBLE Middle School Assembly Program
IM.POSSIBLE is a fun and interactive school assembly helping elementary and middle school students build resilience, a positive self-worth, and chase their I'm possible dreams.
2023-2024 TOUR DATES
Aug. 8 – Gayle Middle, Stafford, VA
Aug. 8 – Thompson Middle, Stafford, VA
Aug. 8 – Poole Middle, Stafford, VA
Aug. 21 – Boaz Middle School, Boaz, AL
Sept. 1 – Wilson Ele School, Plant City, FL
Sept. 7 – Fabens Middle School, Fabens, TX
Sept. 7 – O'donnell Intermediate, Fabens, TX
Sept. 11 – Bailey Elementary, Dover, FL
Sept. 26 – Atrisco Elementary School, Albuquerque, NM
Sept. 26 – Colinas del Norte Elementary, Rio Rancho, NM
Sept. 27 – Alamosa Elementary School, Albuquerque, NM
Oct. 16 – Entiat Schools, Entiat, East Wenatchee, WA
Oct. 17 – Cascade Elementary, East Wenatchee, WA
Oct. 17 – Sterling Jr. High, East Wenatchee, WA
Oct. 18 – Rock Island Elementary, East Wenatchee, WA
Oct. 18 – Grant Elementary, East Wenatchee, WA
Oct. 19 – Clovis Point Elementary, East Wenatchee, WA
Oct. 19 – Eastmont Jr. High, East Wenatchee, WA
Oct. 20 – Kenroy elementary, East Wenatchee, WA
Nov. 17 – Central Middle School, Stirling, NJ
Dec. 1 – Fred Wild Elementary, Sebring, FL
Invite Eddie Cortes to be a guest speaker at your elementary or middle school. Click here or email [email protected] to schedule a conversation to learn more about his school assembly.
ABOUT ELEMENTARY AND MIDDLE SCHOOL ASSEMBLY PROGRAM
In his fun and interactive presentation titled "IM.POSSIBLE," youth motivational speaker Eddie Cortes will help students realize that they are not defined by their limitations but by their potential. He uses humor, thought-provoking stories, and object lessons to teach elementary and middle school students to build resilience. Eddie empowers them to do hard things and chase their dreams.
Email [email protected] or click here to schedule a conversation to learn more or invite Eddie Cortes to be the guest youth motivational speaker at your next school assembly program.
ABOUT SCHOOL ASSEMBLY SPEAKER EDDIE CORTES
With over 20 years of experience, Eddie Cortes is regarded as one of the most engaging elementary and middle school speakers in the youth market. His mission is to empower students to build resilience and a positive self-worth.
This mission is personal. As a middle schooler, Eddie stopped believing in himself. In fact, his negative self-view impacted his grades, relationships, choices, and ultimately his dreams.
This experience is what fuels Eddie's mission. He wants every elementary and middle school student to know that they are worthy of their dreams and have the tools to chase them.
To learn more about Youth Speaker Eddie Cortes click here.
Follow Eddie Cortes on social: Instagram | Facebook | Linked In